Mrs Reid's class Zoo trip - a roaring success!
20th Jun 2016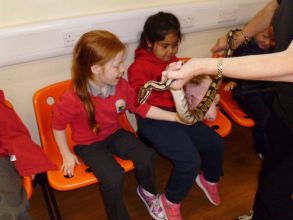 To conclude our topic 'Hot, Hot, Hot' Mrs Reid's class visited the Belfast Zoo on Friday 17th June. In addition to looking at the animals on show outside, we also had the opportunity to visit the Zoo Educational Centre where the children were able to view, hold and touch a variety of species. Our guide showed the children a tree frog, and a giant snail which the children were able to touch. Gardeners should be very glad that our snails don't grow to that size!
The children saw Rosie – a Chilean Pink Rose Tarantula who thankfully stayed inside her container and we were all more than happy to admire her from the other side of the glass. We then saw Pinto, a very cute Pygmy hedgehog from the Sahara Desert who awoke to a chorus of appreciative "oh" and "ah" from everyone in the room. The children touched and stroked Pinto's spikes as our guide held her safely.
We then learned about Stick Insects with one lucky Stick Insect walking and climbing from child to child. The Stick Insect took a particular shine to Calvin who thoroughly enjoyed meeting a new friend.
Our final and most exciting creature was Samantha the snake who had a very interesting background. Samantha had been poached from the rainforest, smuggled inside travel luggage, then discovered and confiscated by Customs Officers. Thankfully snakes cannot hear so did not notice the excited noises coming from the children! Some very brave volunteers were able to hold and stroke Samantha under the expert supervision of our guide.
The intrepid explorers had a very interesting and exciting day which for some required 40 winks on the way home.
Maghera Primary School, 15 Station Road Maghera Co. Londondery BT46 5BS Tel/Fax: 028 796 42130