P6 News:- Spectacular Christmas Craft
26th Nov 2015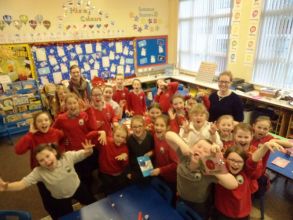 At the start of the club Miss Freeburn told us what we could do. We could paint, use paper or draw. After we made our choices and knew what we wanted to do Anna came around with paper and we folded it in half to make a card. Then we were split up into stations for what we wanted to do.
Miss Johnston helped cut up wrapping paper and got us things for our cards like glitter ,stickers and lot of Christmassy things. Some people painted a snowman, holly or Christmas pudding. We had great fun and got to make more than one card. Everyone was getting excited and ready for Christmas to start!!!
At the end we tidied up and we let our Christmas cards dry. On the way out we lifted them to take them home. It was great fun.
By Website News Partners
Charlotte and Chantelle aged 9 and 10.
Maghera Primary School, 15 Station Road Maghera Co. Londondery BT46 5BS Tel/Fax: 028 796 42130